A home stair lift in Columbus is an excellent choice for many families. Stair lifts include a motorized seat on a track, to transport you from one floor to another. These devices provide safety for those with arthritis, balance issues, or other such health concerns.
While stair lifts are a great investment, some homeowners might still hesitate at their cost. With this in mind, check out some added information about stair lift prices and features. You can then discuss this with a stair lift contractor near you as needed.
How Much Is a Home Stair Lift in Columbus, OH?
On average, a home stair lift for Columbus, Ohio, properties might cost between $2000 and $5000 installed. Specialty lifts with custom rails and other such details can add several thousand dollars to that cost. In addition, a home's staircase design also affects that overall cost.
For example, a stair lift installed in a home with a straight staircase and eight-foot ceilings might start at $3000. Details like a fold-up seat, a slimmer profile, and higher weight capacity will add to this cost. Additionally, you might pay extra for custom upholstery or chair colors.
Custom curved home stair lifts in Columbus are typically the most expensive. A contractor will build these around curved staircases or a landing. In turn, you might expect to pay $10,000 or more for these lifts, depending on the labor needed overall.
Costs for an outdoor lift usually start at around $4000, as these are more rugged and durable than indoor lifts. An installer might also offer various colors or added safety features, raising the price to $7000 or more.
Who Needs a Home Stair Lift?
You might assume that only elderly persons need a home stair lift in their house. While it's true that elderly persons benefit from using stair lifts, they're a great choice for many families! With that in mind, check out some reasons you might invest in a stair lift for your home:
Stair lifts provide added safety for anyone with balance issues, vertigo, or breathing disorders. These and similar health concerns can make using stairs difficult and dangerous! Consequently, investing in a stair lift means not having to avoid the stairs or worry about their risks.
Walking up stairs puts tremendous stress on the knees, hips, and back. In turn, stairs lifts are an excellent choice for arthritis sufferers, bariatric patients, and even athletes!
Persons with health conditions that cause fatigue or weakness might find stair lifts useful. In addition to transporting a person up and down stairs, you can also use a lift to carry laundry and other heavy items!
Additionally, those with young children might need a stair lift! Struggling to carry a heavy toddler or active baby up and down stairs can be dangerous. Instead, you can strap them into the chair with you, for safer mobility.
When considering stair lifts, don't forget your beloved pets. An older pet might struggle with stairs and, in turn, feel isolated from the family. Consequently, a stair lift allows them to move from floor to floor safely and in full comfort.
Which Is Better, a Home Stair Lift or an Elevator?
Elevators are a great option, and there is "right or wrong" answer as to which is best for you. One advantage of elevators over stair lifts is that they are more unobtrusive. Two, elevators do offer more space and easier access for wheelchair users.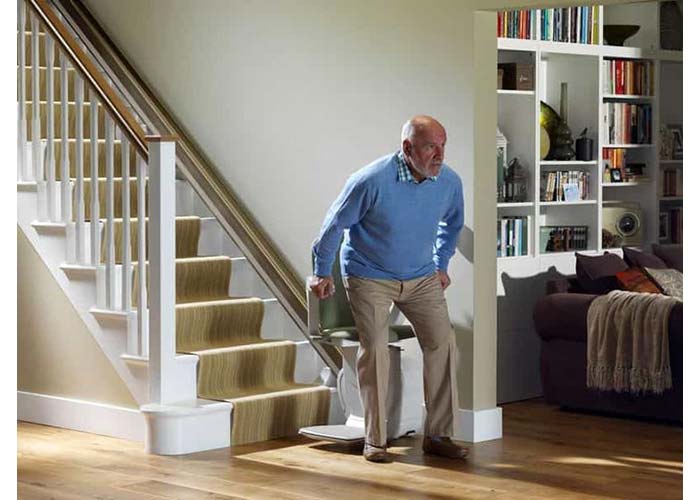 However, there are many advantages to stair lifts versus elevators! First, note that you still need to stand in an elevator. Second, not all homes have the structural strength needed to support an elevator. Lastly, elevators usually cost thousands more than lifts and require far more time for installation.
Note, too, that elevators require more maintenance than stair lifts for Columbus homes. Additionally, getting someone out of a stalled elevator might require a call to emergency services! If a stair lift should suddenly stop working, a person still has the option of using the stairs. It's also easier for a family member, neighbor, or others to help someone off a malfunctioning stair lift than out of a stalled elevator.
It's also helpful to ask a stair lift installer their recommendations! He or she can note the best choice for your home, budget, and needs. Also, they might even explain how to save on the cost of a home stair lift in Columbus. In the end, you can enjoy added safety and comfort for yourself and everyone in the family. Call Columbus Walk In Bath Solutions to get started with your stair lift installation.