The average cost of a walk-in tub installed is often less expensive than homeowners assume, and a better investment in your home and comfort than you might realize! Once installed, many homeowners wonder how they managed to live without a walk-in tub or tub-to-shower conversion for so long. Walk-in tubs have a door so that you don't need to step over that sidewall, and shower conversions take out the tub completely, for safe shower access.
Typically, the average cost of a walk-in tub installed is about $5000, with most tubs or conversions running between $3500 and $7000. There are some options for making a walk-in tub more affordable for you, and stunning features that make using your tub safer and more enjoyable for everyone in the family!
The best way to find out the average cost of a walk-in tub installed in your home is to set up an appointment with an installation contractor, as he or she can take precise measurements and then show you their catalog of options. A walk-in tub installation contractor can also note any other options that might work for your needs and budget, such as a shower conversion, stall shower installation, and added grab bars or other upgrades to an existing bathroom.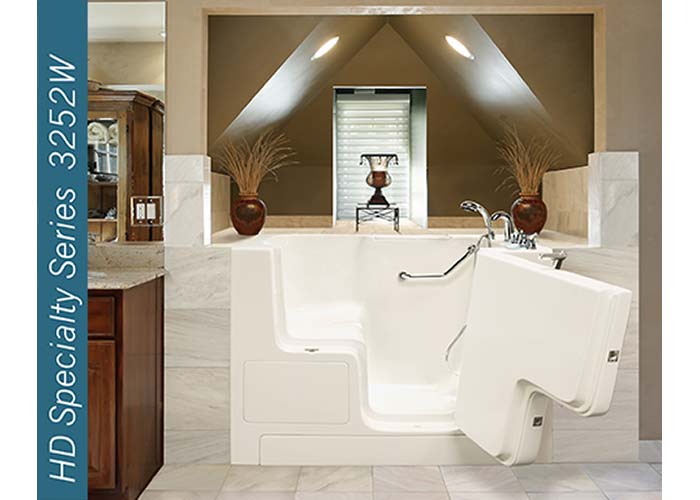 Before you make a call to a nearby installer, note some added details about average shower conversion and walk-in tub costs, as well as some commonly asked questions about those costs. You'll then have a better idea of what to expect and plan your tub installation accordingly!
Breaking Down the Average Cost of a Walk-in Tub, Installed
When reviewing this information, remember that prices for walk-in tubs will vary according to their manufacturer and the features offered. Contractors also charge varying rates, and some installations are more cumbersome than others, requiring added or upgraded plumbing or other home modifications, so consider these prices as just examples of what you might expect!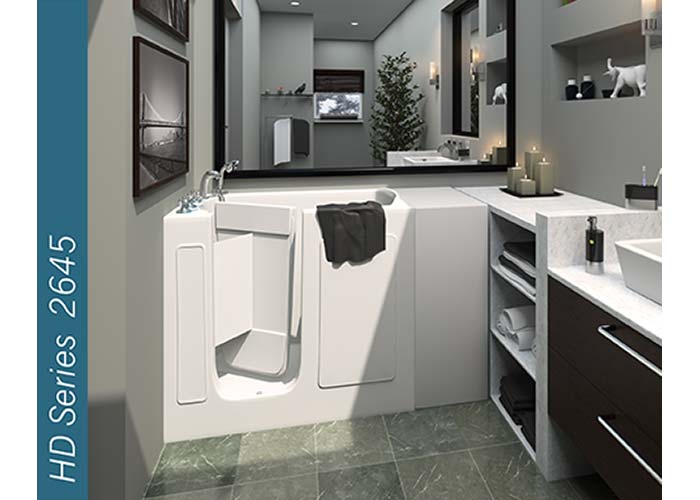 · Standard tubs with just a door and seat and no special features are often the best value and might run $1500 to $5000 for the unit alone.
· Tub-shower combos are walk-in tubs with a showerhead. These provide added bathing options and might run $2500 to $6000 before installation costs.
· Longer units or those with two seats also allow for more comfortable bathing and provide added room for a caregiver, but note that they will typically cost $1000 to $3000 more than a standard-sized unit.
· Tubs with whirlpool or jet features typically cost $3000 to $7000 and up for the tub alone.
· Wheelchair-accessible tubs require more width and usually cost between $5000 and $9000 for just the tub before adding installation costs.
· Labor for walk-in tub installation usually averages anywhere from $700 to $5000, in addition to the tub itself. These prices are also likely to increase for added plumbing installation or finished carpentry and other renovation work.
· Additional features such as grab bars not included in the tub design will also add to your costs.
Are Walk-In Tubs Covered By Medicare?
Never assume that any expense is or is not covered by Medicare until talking to a Medicare representative! In most cases, walk-in tubs are not considered durable medical equipment, so their cost is not covered by your Medicare benefits.
However, there are rare cases when a walk-in tub might be considered a medical necessity and then covered by Medicare as a reimbursement. That reimbursement would typically require a medical prescription and an explanation of why it's needed for your care.
Some Medicare supplemental insurance plans might also cover the cost of a walk-in tub if it's deemed necessary to treat an injury or condition or for reducing the need for emergency care. As with Medicare, these cases are rare, and reimbursement will vary from state to state and plan to plan. If you're considering a walk-in tub installation, discuss your needs with your doctor and Medicare or Medicare supplemental insurance representative before assuming you'll receive reimbursement.
Walk-In Tubs & Tax Deductions
According to Paying for Senior Care, a walk-in tub can be considered a medical expense if it's needed for medical or safety reasons, so it may be tax deductible as a Medical and Dental Expense. This is also true if you're caring for an elderly parent in their home and a walk-in tub is included in a home modification. In that case, the homeowner might claim the expense under the Dependent Care Tax Credit.
Before you make any deduction assumptions when filing a tax return, however, talk to an accountant, lawyer, or other qualified financial advisor, and remember that tax law might change from year to year. It's vital that you receive current advice from a qualified legal or tax professional before assuming you can take any deduction on your taxes, including the cost of a transfer tub bench or walk-in tub.
Will Insurance Cover a Walk-In Tub?
As with Medicare, most insurance plans don't cover the cost of a walk-in tub installed except for rare cases where such is needed for medical care. As insurance plans vary greatly, it's vital that you review your coverage paperwork and talk to an insurance representative before assuming your walk-in tub installation will or will not be reimbursed by your provider.
How to Choose a Walk-In Tub Style
If you're confused about different walk-in tub styles and especially when it comes to pricing, note some practical tips for narrowing down your selection and finding the right tub for your needs:
· Start with the dimensions of your space. While a walk-in tub installer can sometimes expand the footprint of your current bathtub, you don't want a walk-in tub so large that it won't let you open the bathroom door or access the toilet and sink easily! You will also need adequate clearance for the tub door as well.
· Consider your home's hot water capacity. Many small tubs require around 50 gallons to fill it; if your home only has a 40-gallon water heater, you'll either need to use the tub before it's full or wait for the heater to heat more water.
· Check a tub's step-in height, meaning the height of the door's lip. Most tubs will have a step-in height of 3 to 7 inches; if you have severe balance issues or other such concerns, you'll want the lowest step-in height you can find and afford.
· Note if you need added features beyond a standard tub. For example, bariatric tubs are larger and designed to accommodate individuals over 300 pounds. Wheelchair access tubs will have a door that opens up to the interior seat, providing easier and more independent transfer.
· Air and water jets are especially useful for those with arthritis, circulatory problems, and other specific health concerns.
· If you prefer to soak for some time in the tub, look for in-line heating. This will keep the water warm so you don't end up bathing in lukewarm or even cold water!
· Consider how many grab bars you will need for safety, depending on your overall physical condition.
· If you're investing in a larger tub, choose a quick fill and drain option. Without these features, your tub might take up to 10 minutes if not even longer, to fill and then drain!
· Consider sitting and lounging layouts. Most tubs will have a built-in seat; however, if you prefer to stretch out, and especially if you need to support your feet on a ledge for easier access and care, opt for a tub with a lounging layout.
Are Walk-In Tubs Worth the Money?
Only you can determine if a walk-in tub is worth the money after weighing its many pros and cons. Obviously, the best advantage of a walk-in tub is added safety, which is worth any cost! Getting in and out of the tub is often one of the most hazardous activities for seniors and those with limited mobility, and a walk-in tub virtually eliminates the risk of falls and resultant injuries.
If you'd like to make your current tub safer for you or your loved one, a good place to start is with a secure bath mat to increase traction and reduce risk of falls when the tub is slippery.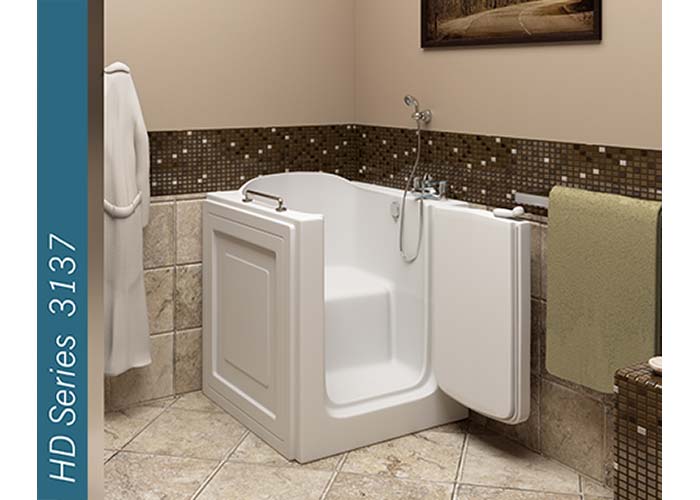 A walk-in tub can also mean independent bathing, allowing you privacy and added comfort and less need for others to assist at bath time. If you or your loved one only needs assistance at home for bathing, investing in a walk-in tub or tub-to-shower conversion can mean less hassle for family members and save on the cost of a home health aide or another caregiver
Even if you don't suffer limited mobility or other such health concerns, walk-in tubs mean less pressure on the knees, hips, and back with every use. You can also sit safely and comfortably in a walk-in tub rather than trying to lift and lower yourself to a standard tub floor. You might also consider investing in a walk-in tub now so that you can age safely in your home and stay there for as long as possible!
Columbus Walk In Bath Solutions is happy to bring this information to our readers and better explain the average cost of a walk-in tub installed in your home. If you're considering investing in a walk-in tub, tub to shower conversion or need a stairlift, turn to our trusted Columbus walk-in bath installation contractors! We carry a full line of affordable walk-in tubs sure to fit your budget and needs. To find out more or get started with your no-obligation, no-hassle appointment, give us a call today.