Are walk-in tubs worth it? If you've been shopping around for a new step-in tub, tub-to-shower conversion, or walk-in shower, you might wonder if the cost is worth your investment. You might also wonder how much these installations cost, and how to choose the right one for your home and family!
A walk-in tub offers added safety and convenience for anyone with balance issues or similar health concerns. Step-in tubs can also include whirlpool jets, built-in seating, heated backrests, a hand shower, fast filling and emptying, and other features that make them well worth your investment!
To help you answer the question about are walk-in tubs worth it for your home, note some common pros and cons of these features. You might also check out some tips on how to choose a walk-in tub, and advice for when a built-in shower is the best choice for your home!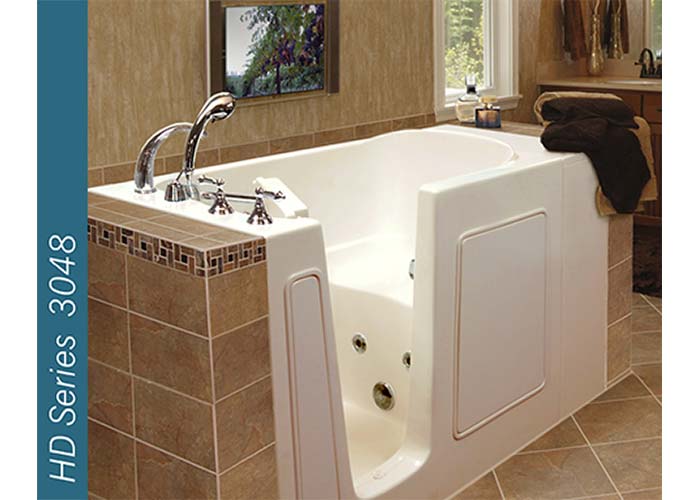 Be sure to discuss this information with a walk-in bathtub installer near you. He or she can typically offer added advice on the best bathtub and shower option for your home and help you choose a fixture you'll love for years to come.
Are Walk-In Tubs Worth It?
There is no "one size fits all" answer about whether or not a walk-in tub is worth the cost. Some families might find that they don't use certain tub features as much as they assumed they would, while other families might find that a step-in tub is just what's needed for safe bathing.
To help you make your decision, check out some standard pros and cons for walk-in bathtubs and other similar fixtures. Your bathtub installer can also offer personalized advice on your purchasing decision, as said.
What are the pros of a walk-in tub?
First, note that a walk-in tub has a door along the tub wall so that you don't need to step over that wall and into the tub. These tubs will also have a built-in seat, so you can sit comfortably while bathing.
Consider first the pros of a walk-in tub or shower and who might benefit from these fixtures especially, so you know if they're right for your home!
· Not having to step over a tub wall is an excellent choice for anyone with balance problems or arthritis and similar concerns. Stepping over a tub wall often puts undue stress on the knees, hips, and back, so a walk-in tub makes transferring in and out of the bath much easier for persons with various health issues.
· Walk-in tubs are especially helpful for anyone using mobility aids such as a wheelchair, walker, cane, or crutches, allowing for easier transfer into and out of the tub.
· Built-in seating also alleviates weight and pressure on the back, hips, knees, and ankles while bathing. This is an excellent choice for those with arthritis or for bariatric patients, or for those who have any health concerns that make standing in the tub difficult.
· Built-in seating also allows someone to comfortably reach and stretch while washing. This can mean added safety for those with vertigo or other balance issues, and convenience for bariatric patients.
· Not having to step over a tub wall and being able to sit while bathing, along with heating and whirlpool jets, are excellent choices for athletes or physically active persons! You can bathe easily and take your time in the bath, without added pressure on already sore muscles and joints.
· Investing in a walk-in tub might help avoid future health issues. The less pressure you put on knees and hips, and especially if you're dealing with obesity, a past injury, and the like, the less risk of developing joint problems in the future.
The pros of walk-in showers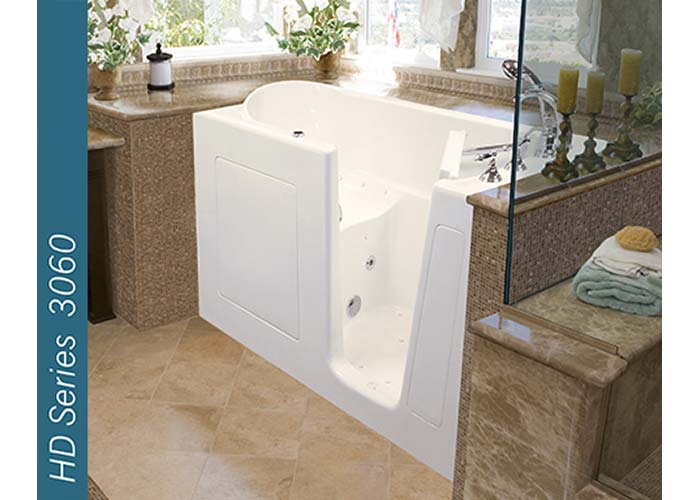 · Walk-in showers are especially helpful for wheelchair users who find it difficult to transfer to any seating! A walk-in shower allows enough space to accommodate a wheelchair or other mobility aid, keeping you safe while offering maximum convenience and comfort.
· Walk-in showers are also an excellent investment if someone already needs assistance with transferring in and out of the tub. Removing the tub wall altogether often makes it easier for a health aide to assist a patient, without having to balance the patient's weight as they step in and out of the tub.
· A walk-in shower can often be constructed from the ground up, allowing a contractor to install a shower in a small bath, or work it around awkward spaces. Your contractor can also create a larger shower area, to accommodate spa-like seating, built-in shelving, or otherwise provide a comfortable showering experience!
What are the cons of a walk-in tub?
While a walk-in tub or shower offers all these benefits and more, there are a few cons you might also consider before deciding to install one in your home.
· In some cases, a walk-in tub installation or tub-to-shower conversion can affect property values, making your home less desirable to potential buyers. However, if you plan on staying in your home indefinitely, this might not be an issue!
· If you're considering a walk-in tub for someone in the family with balance issues or joint pain, consider if they might become wheelchair-bound in the future. If so, a tub to shower conversion might be a better option for your home.
· While a walk-in tub offers added safety in the bath for seniors and those with certain health concerns, consider if that person might need to move to an assisted living facility or other housing sometime in the future. If so, investing in a step-in tub might not be worth the cost, considering its short-term use.
If you are considering a walk-in tub for someone with severe health concerns, ensure you've discussed this option with their healthcare provider. He or she might note some added concerns about such fixtures, or might advise on the advantages of a step-in tub, walk-in shower, or other feature.
How Do I Choose a Walk-In Tub?
When shopping for a walk-in tub, you might be surprised at your many options. While having more choices is convenient, it can sometimes make the selection process a bit overwhelming! Consider a few quick tips on choosing the right walk-in bathtub for your needs.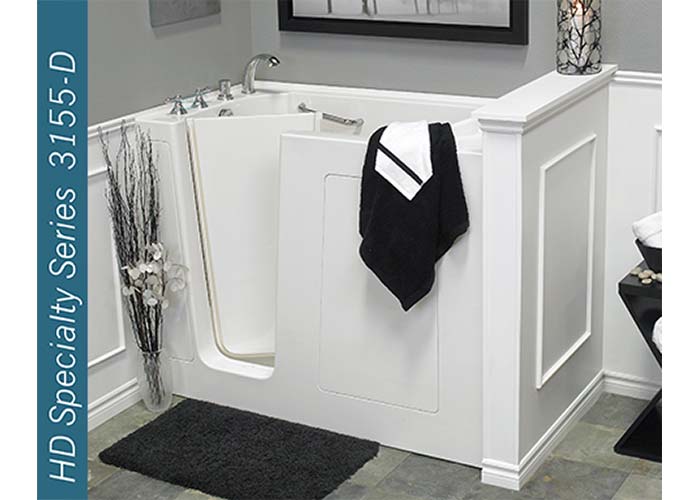 · Note that a tub door might swing inward or outward. Wheelchair users typically find an outward swinging door easier to manage, as it gets the door completely out of the way of the tub seating.
· If you or a family member struggles with mobility, you might invest in an anti-scald tap for your bathtub. This ensures the water doesn't get overly hot, an excellent choice for those who might struggle to reach the taps quickly!
· Handheld shower heads are a good feature to choose if someone will need assistance in the bath. A handheld shower allows a health aide to control the direction and flow of the water and even wash a patient's hair with ease.
· While walk-in tubs typically fit a standard bathtub footprint, their interior size will vary from 28 to 32 inches wide. Some tubs will also have added bariatric features, including wider doors and deeper seating, to accommodate persons over 300 pounds. Ensure you invest in a tub that offers the comfortable space you'll need for bathing.
· Bathtub walls are typically harder to clean than a simple tub floor! If you're purchasing a walk-in bathtub for someone with mobility issues or other health concerns, and they don't have household help, invest in a self-cleaning tub.
· Rapid fill options are a good choice for those who may not want to wait for the tub to fill completely. If you cannot afford the rapid fill option, consider a heated backrest so you stay warm while waiting for the tub to fill.
As with any home appliance or plumbing fixture, it's also vital that you consider a tub's warranty. Ensure you invest in a manufacturer or name brand that offers a long warranty or guarantee against leaks and other damage!
How Many Gallons Does a Walk-In Tub Hold?
Most walk-in bathtubs hold 50 gallons of water. Whatever your choice of tub, it's vital you double-check its capacity against your home's water heater tank! If your home has a smaller water heater tank, you might very well run out of hot water before a larger tub fills.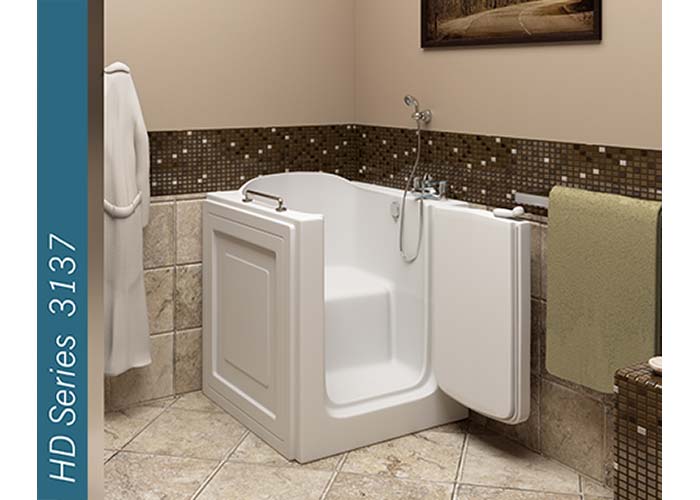 If other occupants in the home also need to shower or bathe before or after someone uses the walk-in tub, note if you might need to upgrade the home's water heater. A larger tank or on-demand system can more readily accommodate all of your family's hot water demands.
What Is the Average Cost of a Walk-In Tub Installed?
The cost of a walk-in tub depends on its size, manufacturer, and added features such as heated backrest and fast filling. Most step-in bathtubs average between $2000 and $7000, just for the unit itself.
Labor for a walk-in tub might average between $2000 and $4000. This cost will depend on any added prep work needed for your house; for example, rapid filling and emptying might require plumbing updates in the bathroom. Homes with weakened subflooring might need shimming or other bracing, to support the weight of a new tub.
The total cost of a walk-in tub installed might average around $5500, with most homeowners paying between $4000 and $7000. To find out the actual cost of a walk-in tub for your home, call an installer near you and ask to see their catalog and arrange for a price quote. Most offer such consultation free of charge!
What Is the Best Walk-In Tub for the Money?
Many of the best-reviewed walk-in tubs offer different features that make them all the best tubs for the money, depending on your needs! Note some favorite features to look out for in various step-in tub models so you know which might "fit the bill" for your home:
· Kohler usually offers the widest variety of colors and textures for their step-in bathtubs, so you're sure to find something that fits your style.
· American Standard tubs can be customized to fit your home's bathroom, and all tubs come with a lifetime warranty.
· Boca Walk-In Tubs is a veteran-owned company, and their tubs come in one of the widest price point ranges.
· Ella's Bubbles offers a two-seater tub, perfect for couples.
· Jacuzzi brand is well-known for luxurious hot tubs, and their walk-in tubs are also some of the best in the business! If you want to invest in high-quality whirlpool jets, heated tubs, and other spa-like features, check out the Jacuzzi brand.
· Elevate Bath Tubs offers a fast-draining model that empties in about ten seconds. Elevate also offers luxury models with spa lighting and an anti-gravity slide-down door, a perfect choice for small spaces.
· Safe Step offers a wide variety of step-in tubs, with various door sizes and add-on features such as attached showerhead. Safe step tubs are an excellent choice for those with arthritis or balance issues but who need an affordable walk-in tub option.
Which Is Better, a Step-In Bathtub or Walk-In Shower?
Walk-in tubs and showers each have their own pros and cons, and both offer a safer bather experience for those who might struggle to step over a tub wall. A walk-in shower typically includes lots of room for built-in seating, and they can be easier to manage for wheelchair users and others who might find a step-in tub door cumbersome.
Bariatric patients might also find walk-in showers roomier and more comfortable than a step-in tub. If you do choose a walk-in shower for a bariatric patient, it's vital you include adequate seating so he or she can easily bend and reach while bathing.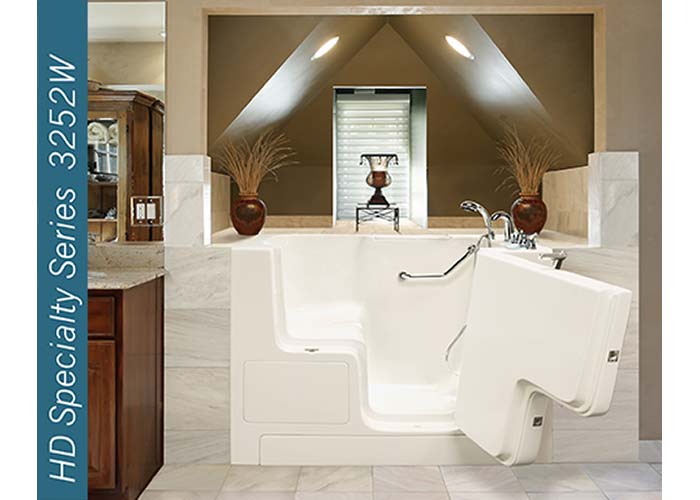 A shower kit might also be far more affordable than a walk-in tub or shower built from the ground up. Compact walk-in showers also allow you to add a shower to a small lavatory or half bath, for added convenience.
However, note that you cannot soak in a shower! If you prefer the added comfort of a soaking tub and especially if you're looking forward to whirlpool jets, a walk-in tub is the better option. A walk-in shower might also make it more difficult to bathe children and pets than a tub with walls.
Columbus Walk In Bath Solutions is happy to offer this information to our readers and hopefully, it helped answer the question, are walk-in tubs worth it? If you're interested in a step-in tub, tub to shower conversion, walk-in shower, or stairlift, call our Columbus walk-in bath contractors. We can set up a no-cost consultation and help you choose the right fixtures and features for your home's bathroom!